---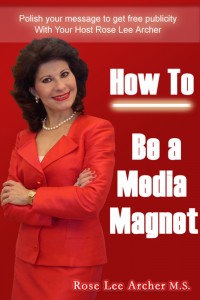 Rose Lee's award winning journalistic style sets her apart from the mainstream media.
Be adventurous, get fired up, Magnetize the Media and build a powerful brand- Discover "How to Be A Media Magnet"
Polish your message to get free publicity. Elevate your career from an unknown to a distinguished expert.
ROSE LEE's PLATFORM
1. KEYNOTE: "Redefine Your Sense of Normalcy" empowering key note theme
2. UNIQUE COMMUNICATION TRAINING: "HOW TO BE A MEDIA MAGNET"- workshop -5 minute on camera message
3. EMCEE, PANEL MODERATOR –Rose Lee Live- Edutaining Enlightening, Energetic
4. After Dinner: Motivational Leadership & Performance: Real life thought provoking & engaging
On & Off Mic–Grab Media Attention:
Rose Lee's a veteran TV news anchor, producer & author of "How to be a Media Magnet."
Reframes an approach to PERSUASIVE, RESPONSIBLE COMMUNICATIONS.
Present & polish a message to MAGNETIZE THE MEDIA
Take Aim to Fame, as a Media Magnet, offers an interview branding formula earn free publicity & respect as an credible expert
"How to be a Media Magnet" illustrates techniques to grab the attention of the media and hold their attention long enough to brand your product or service.
Rose Lee's award winning resourceful approach discussed dozens of life's issues with hundreds of government and professional business leaders on camera.
As a National Disability Advocate & Journalist, Rose Lee created a training program to increase awareness of real life challenges faced by families who care for a person with a disability. "The New Face of Diversity in Business: In & Out of the Workplace" is a Communication Diversity Training to develop language skills to create eve sensitivity and expand the vision of the ADA. Acceptance and understanding begins with dispelling the fear factor of saying something incorrect to a person with a disability. Opening up your hearts and minds to a person with a disability begins with ASKING QUESTIONS. Just as in any other learned behavior we must find the answers to the questions to be versed in a specific subject.
Rose Lee's Resource Tips to Disability Etiquette & Social Corporate Responsibility-
Language Skills Defining Mobility Visual Communications
Oral Communications Stature Disorders Neurological Disorder
Central Nervous Disorders Tourette Syndrome Psychiatric Disabilities
Cognitive Disabilities Identifying Accessibility Signage
Gain the knowledge of Disability Etiquette from Rose Lee's award winning style as a Disability Advocate.
Contact Rose Lee for this entertaining approach to communicating effectively with persons with disabilities in and out of the workplace.
Call us today at :561-241-7987 or 561-213-1860